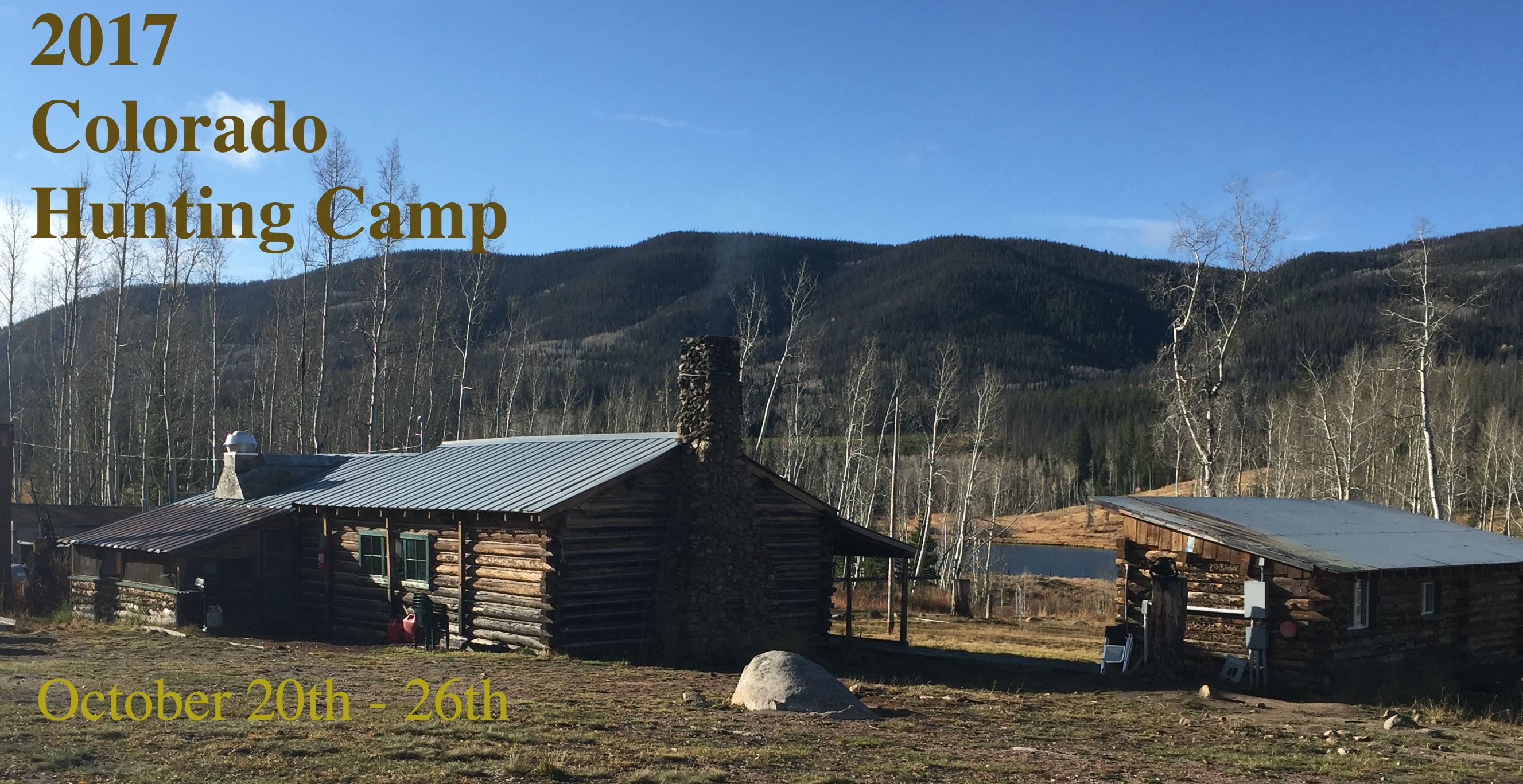 2017 Colorado Hunting Camp
October 20th - October 26th, 2017
$405
2017 Colorado Hunting Camp Theme - "Fighting like a man"
Join New Wilderness Adventures for our 4th annual Hunting Camp! October 20-26 We will hunt for big game (Elk and Mule Deer) in the rugged Northern Central Colorado Rockies, Routt National Forrest. ( Hunt Zone 15)
This adventure is not just about the hunt, it is about connecting deeper with our Heavenly Father and other men as we adventure together and enjoy creation and friends! Each day we will explore topics that will encourage and strengthen your masculine heart! There is ample time to hunt and you will eat well! You will leave with deeper connections, perhaps some meat and a trophy.
WHERE
Our base camp will be the rustic Mount Elim Bible Camp which borders the National Forest. (great hunting right out of the camp!) Private land adjacent the camp gives NWA hunters exclusive forrest access! This is high adventure with moderate risk! No experience is necessary (first time hunters welcome) but a license (hunter safety card too) is required to hunt. There are ample mule deer and elusive elk! (weather plays a huge factor with the elk) In 2016 the group harvested 2 bucks, 1 doe, (better than state average) we found elk, shots were fired, none were taken.
THE PARTICULARS
October 20st-26th (Arrive Friday afternoon, depart Thursday morning)
Cost $405, includes lodging, food, and conference materials
You are invited to stay additional days at $65/day, thru Oct 29th (season ends at sundown on Sunday)
5 full days of hunting!
Men/Sons 14 and up
Mount Elim Bible Camp (between Kremmling and Toponas Colorado in the Gore Range)
COST
$405; $65 for each additional day
Deposit of $75 reserves your spot.
Sept 15th paid in full deadline.
Left over tags available August 1st, first come first serve till they are gone. (see below for webpage)
Youth (age 12-17) can hunt for a ridiculously reduced (1/4 - 1/6) license cost! Youth must have a mentor 18 or older, both need a hunter safety certificate. Mentor does not need to hunt!
*NOT INCLUDED: * Your gear, rifle, hunting licenses, snacks, processing, shipping, travel, etc...
HUNTERS EDUCATION (safety) CARD is required to hunt. Unless you were born prior to 1949. There is an apprentice license for first time hunters, if you can not complete you hunter safety prior to your draw application.
SPECIAL INSTRUCTIONS:
Bull Elk hunting licenses are available over the counter (no draw), other licenses (left over tags), including Mule Deer (Buck or Doe) and Cow Elk can be obtained August 1st via phone or website. Left over tags available August 1st. We strongly suggest getting Mule Deer Tags. You will have an opportunity to kill a deer for sure. We strongly suggest you get these, Really.. Get them! There are trophy Mule Bucks in the area.
DRAW TAGS: (call for help) Deer are draw only!!
Cow Elk tags are draw only! To purchase your draw license and to enter the draw go here.
CODES FOR THE DRAW: (October 21-30 (2nd combined rifle season)) Mule Deer Buck: D-M-015-02-R Mule Deer Doe: D-F-015-02-R Elk Cow: E-F-015-02-R
DO NOT select that you are hunting in a group on the draw!
CLICK HERE TO PURCHASE HUNTING LICENSES
If you'd like to talk to someone about last year's trip or what to expect this year call Tim Little at 970-485-0745 or email Tim at: tim@newwildernessadventures.com
NWA: Mission Critical, Nov 2nd-5th, 2017
November 2nd - November 5th, 2017
$250
Are you wondering what is next in your walk with God? Do you desire more, and are you seeking a true partnership with God? Are you ready to move?
Do you hunger to walk deeper with God; discovering your purpose and walking confidently into your destiny? Then join Barry Strickland, Mark Folk and Tim Little for this four day experiential journey into the Critical Mission that God has for you.
Over the weekend you will interact personally with a community of men and develop a personal action plan and leave with comrades!
The Details
This event will be held at The River Ministry Lodge outside of Rutherfordton NC, Nov. 2nd - 5th. We will begin with dinner at 6 pm and end after lunch on Sunday.
Cost is: $250.00 There will be partial scholarships available. Email us for more information on scholarships. We have a limit of 20 guys at this retreat. It will fill up fast. RSVP today by paying in full or a deposit of $125.
Cancellation: You can cancel with a full refund minus a $30 processing fee, prior to October. 1st. No registration refunds after October 1st.
Father/Daughter Weekend Adventure
November 3rd - November 5th, 2017
$75 - $200
New Wilderness Adventures - Father Daughter Weekend
@ The River Ministries Rutherfordton, NC
Come join Mark Folk and his daughter Madison as they host this Father-Daughter weekend in Rutherfordton, NC. Nov 3 - 5, 2017
This Fall, in the beauty of the NC mountains take some much needed time out of your busy schedule to rekindle that special relationship with your daughter(s). Possible activities could include hiking, canoeing, camping (optional), archery, orienteering, target shooting, father/daughter talent show, attending horse jumping show, father/daughter dance.
For Fathers and Daughters ages 10 and up.
Cost $200 for Father& Daughter $75 for additional child $75 deposit required for registration
Location: The River Ministries 325 Sycamore Lane Rutherfordton, NC 28139
Cost includes food, lodging, activities, adventures and materials. Each Father will need to bring a gift for his daughter.
Bedding and Linens Provided.
For more information call Mark at 704-472-9645 or email at mark@newwildernessadventures.com